Total Facilities Management
The social housing sector faces unique challenges in maintaining and managing their estate including their corporate and serviced. With limited resources and an increasing demand for affordable housing, it is crucial for housing associations and local authorities to ensure their facilities are properly maintained to provide safe and comfortable working conditions for their staff. Total Facilities Management (TFM) is a comprehensive solution that enables organisations to manage all aspects of their facilities, including both hard and soft services. This includes everything from building management and inspections to cleaning and security.
To meet these challenges, organisations need a compliant route to market for their TFM services. This is where CHIC's Total Facilities Management Dynamic Purchasing System (DPS) comes in. By providing a fully compliant procurement process, CHIC ensures that members can access high quality TFM services from pre approved suppliers at competitive prices. The DPS is split into three Lots, each covering a different aspect of TFM services.
FATS No. 2019/S 047-107874
Awarded: 04/03/2019
Including (but not limited to):
Building Management, Inspections and Surveys
Lifts, Escalators & Hoist Installations, Serving and Maintenance
PAT Testing
Ventilation/Air Conditioning Systems
Water Hygiene & Legionella
Reactive Maintenance
Heating Servicing and Maintenance
Mechanical & Electrical Maintenance
Void and Planned Maintenance
Including (but not limited to):
Archiving (on & off site)
CCTV/Alarm Monitoring
Cleaning/Housekeeping
Security
Waste & Recycling
Pest control
Front of House/Reception Services
Window Cleaning
Handyman Services
Internal Plants
Including (but not limited to) all the subcategories in both categories 1&2. Category 3 gives CHIC members the option to pick and choose subcategories from each category and drawdown with a single contract. This will result in cost, resource and time savings.
Download our helpful guides.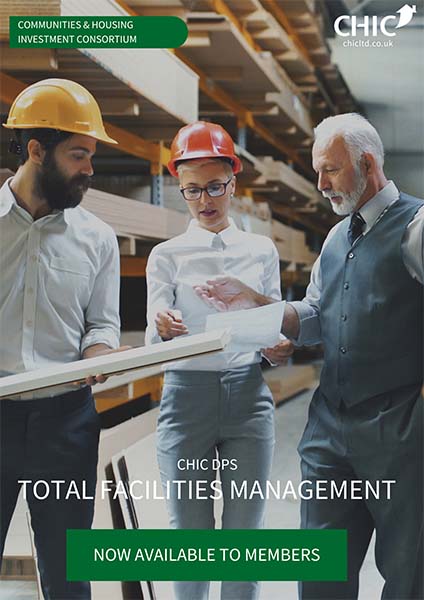 Total Facilities Management Brochure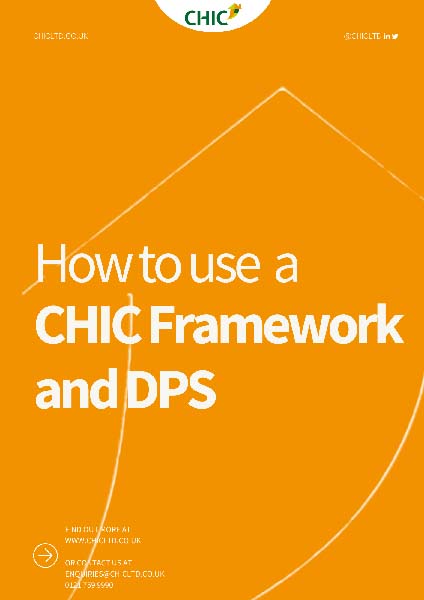 How to use a CHIC
Framework and DPS
Interested in using this solution?
If you would like to use this DPS, please get in touch with our Member Services Team.
Want to find out more about joining CHIC's DPS?
Latest news and events from CHIC