Social housing providers face a multitude of challenges when it comes to developing new properties or refurbishing existing ones. These challenges range from financial constraints and compliance requirements to changing regulations and the need for sustainable and energy efficient building solutions.
There is a growing need for more affordable homes. Effective procurement plays a crucial role in addressing this issue, as it ensures that organisations have access to the right suppliers, contractors and consultants who can help deliver affordable housing projects.
The CHIC Development Dynamic Purchasing System (DPS) provides a compliant and efficient route to market for these services, offering a range of Lots to meet the needs of housing associations and local authorities.
With the CHIC Development DPS, organisations can have the confidence that they are working with high quality suppliers who can help to deliver much needed affordable housing developments.
FATS No. 2017/S 116-232992
Awarded: 16/06/2017
Including (but not limited to) architects, principal designer, cost consultants, planning, employers' agents, project managers, purchasers' agents, CDM co-ordinator, valuations, clerk of works, structural engineer, surveyors (including quantity/soil/asbestos/topographical/party wall/building), acoustic engineers, fire-risk assessors, ecologists, traffic/transport and highways.
Including contractors for (but not limited to) remediation, demolition, site clearance, asbestos removal, geotechnical, landscaping and agriculturalists (e.g. knotweed removal).
For single units to large multi-unit schemes using a variety of build types including (but not limited to) traditional, timber-frame and modular off-site solutions.
Download our helpful guides.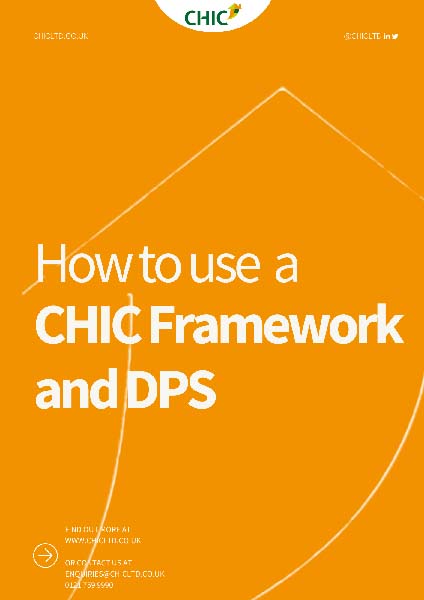 How to use a CHIC
Framework and DPS
Interested in using this solution?
If you would like to use this DPS, please get in touch with our Member Services Team.
Want to find out more about joining CHIC's DPS?
Latest news and events from CHIC